Read time:

7

min
The idea of getting hired after graduation is probably a little intimidating—especially if you're looking for a job in an economic slump. It's true, there are challenges: "Due to the current pandemic, we have seen recruitment for the post-college job market decrease—as to be expected, especially with employers halting recruitment to avoid layoffs," says Robyn Williams, associate director of career services and cooperative education at the University of Central Arkansas in Conway. "I expect this stagnant hiring trend to last as long as [the COVID-19 pandemic] continues and even up to a year after as organizations recover." 
"But the decline is not as tremendous as expected," Williams adds. And there is also good news: "We've seen an increase in diversity hiring—an influx of employers now have a strategic hiring plan, event, scholarship, or internship designed for Black, Indigenous, and people of color (BIPOC) and those who identify as women," she says.
Here's what to expect from the 2021 job market and how to put yourself in the best position to get hired. 
The class of 2021 forecast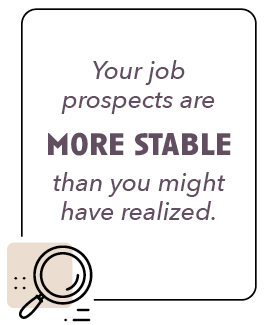 The economic effects of the pandemic are bound to impact hiring for the class of 2021. We've all heard the reports of rising unemployment, slow job growth, and a bleak job outlook for recent graduates. The net worth of young adults has declined in the last 30 years, according to the Urban Institute, a nonpartisan research organization. This forecast has been unsettling to college students who are banking on landing that perfect (or at least decent) job after they graduate. 
But your job prospects are more stable than you might have realized. 
The National Association of Colleges and Employers (NACE) predicts "a more positive hiring perspective for our 2021 graduates than what we previously considered possible," says Williams. According to NACE, employers expect to maintain steady hiring levels through 2021 and actually see increases in some vital sectors, including pharmaceuticals, information support, and wholesale trade. 
How you can expect to meet potential employers and interview for potential jobs, however, might look quite different. "Based on recruitment efforts in fall 2020, I would expect hiring to continue to have a wealth of virtual recruiting efforts, such as virtual career fairs, virtual networking events, and phone interviews," says Williams. NACE reported that over 90 percent of employers attended virtual career fairs in fall 2020. 
Where employers are hiring
According to the US Bureau of Labor Statistics, there are career fields that are projected to experience significant growth over the next decade. Athletics (coaches, scouts, and trainers), biomedical engineering, chemistry, social workers, data science, industrial engineering, technical writing, and teaching are all growing faster than average. But the most explosive growth is happening in medicine, green energy, and caregiving professions. 
"I think that the pandemic might actually increase my job prospects because I'm going to be graduating with an associate's [degree] in psychology. I plan on pursuing a part-time job as a counselor, and in light of the current situation, I believe many of us could use someone to talk to."
—Elsa F., second-year student, San Bernardino Valley College, California
These are the fastest-growing career sectors, according to the US Bureau of Labor Statistics:
Job

Projected growth rate

2019–2029

Median pay in 2019

Wind turbine technician

61%

$52,910

Nurse practitioner 

52%

$109,820

Solar panel installer

51%

$44,890

Occupational therapy assistant

35%

$61,510

Statistician

35%

$91,160

Home health and personal care aids

34%

$25,280

Physical therapy assistant

33%

$58,790

Medical and health services managers

32%

$100,980

Physician's assistant

31%

$112,260 

Information security analyst

31%

$99,730

Data scientist

31%

$94,280

Derrick operators, oil and gas

31%

$46,990

Speech language pathologist

25%

$79,120

Research analyst

25%

$84,810

Mental health counselor

25%

$46,240

Forest fire prevention specialist

24%

$45,270

Restaurant cook

23%

$27,790

Animal caretaker

23%

$24,780
Source: US Bureau of Labor Statistics Occupational Outlook Handbook, updated September 2020
On the flipside, a lot of industries are in decline. Jobs in advertising, art direction, journalism, all types of design, and tax professionals are becoming more scarce. That doesn't mean you won't get hired in these fields—it just means your job hunt might be a little more competitive than it was in the past. 
What you can do to get hired
In a competitive job market, every little bit helps when it comes to getting hired. 
For college seniors
Clean up your digital footprint.
"Current seniors should begin cultivating a professional and engaging online presence on all platforms, whether it's a personal website or Twitter," says Williams. 
Start engaging with recruiters.
"LinkedIn is an awesome platform that current seniors can begin using to engage with recruiters and begin developing relationships with them to expand their network," says Williams.
Tap your professors.
"Oftentimes we find that professors have employer contacts outside of what the career center has," says Williams. "Students should definitely connect with their career services center but also speak with professors about any potential job opportunities."
For all students
Volunteer or intern in relevant industries.
"Realistically, everyone may not be able to participate in experiences such as these if they don't pay well or are unpaid," says Williams. "But if students can make it work, even if just for a short period of time, I believe they should."
Be proactive.
"Think about ways that you can give back to others while also developing your professional skill set on your own time," says Williams. "For instance, you can always reach out to a church or small business in your community and ask if they would be willing to let you revamp their social media or website for free so you can develop your experience/skills in those areas." 
Find virtual skills training.
This is another great option if you can't take on the time commitment of a low-paying or unpaid internship. "I suggest seeking out learning opportunities via LinkedIn, EdX, and Coursera. Once you complete these trainings, you can add them to your résumé," says Williams. 
Your academic résumé
Students who are not majoring in hot fields can round out their skill set and improve their marketability through a strategic choice of courses. If you're a liberal arts major, maybe add a couple of courses in psychology or statistics to your schedule. "It's valuable to have a course or two that at least exposes you to a different kind of language. You're in a risk-free environment: Why not take the opportunity to learn something new and challenge yourself?" says Nicolette Sherman, chief human resources officer at Oyster Point Pharma in Princeton, New Jersey. 
Your transferable skills
"Every person has something that we call transferable skills in their arsenal of professional skills," says Williams. These are the skills that you can use in any job, such as communication, leadership, teamwork, and "intercultural fluency" (diversity). "Highlighting those transferable skills on your résumé and in an interview could be what sets you apart from the competition—employers will be more willing to invest in an applicant who can work well with others and communicates effectively over an applicant that technically can complete the job but isn't able to work well in a team setting or communicate with consumers," says Williams. In other words, if you aren't having luck with the exact career path you'd envisioned when you picked your major, rework your résumé to emphasize the transferable skills that could help you get hired in a related field.
GET HELP OR FIND OUT MORE
Article sources
Robyn Williams, associate director of career services and cooperative education, University of Central Arkansas, Conway, Arkansas.
Nicolette Sherman, chief human resources officer, Oyster Point Pharma, Princeton, New Jersey. 
Bureau of Labor Statistics. (2020, September 1). The occupational outlook handbook: Fastest growing occupations. US Department of Labor. http://www.bls.gov/ooh/fastest-growing.htm 
Bureau of Labor Statistics. (2020, September 1). The occupational outlook handbook: Occupation finder. US Department of Labor. https://www.bls.gov/ooh/occupation-finder.htm 
National Association of Colleges and Employers. (2020, October 19). College graduate hiring plans flatten out for class of 2021. https://www.naceweb.org/job-market/trends-and-predictions/college-graduate-hiring-plans-flatten-out-for-class-of-2021/ 
National Association of Colleges and Employers. (2020, November 13). The use of and attendance in virtual career fairs climbs sharply. https://www.naceweb.org/talent-acquisition/trends-and-predictions/the-use-of-and-attendance-in-virtual-career-fairs-climbs-sharply/ 
Steuerle, C. Eugene. (2013, March 13). Lost generations? Wealth building among the young. Urban Institute. http://www.urban.org/publications/904576.html